Before you buy…
We're glad to again service customers, even though our former store front has closed and we operate this web store under reduced services.
Just scroll to the bottom to review limits placed on orders. .
Arthur Rimbaud (Critical Lives) (Paperback)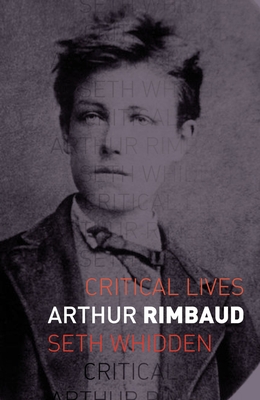 $19.00
Ships from Warehouse, Usually in 1-8 Days
Description
---
Before he turned twenty-one, Arthur Rimbaud (1854–91) had upended the house of French poetry and left it in shambles. In this critical biography, Seth Whidden argues that what makes Rimbaud's poetry important is part of what makes his life so compelling: rebellion, audacity, creativity, and exploration.

Almost all of Rimbaud's poems were written between the ages of fifteen and twenty. Against the backdrop of the crumbling Second Empire and the tumultuous Paris Commune, he took centuries-old traditions of French versification and picked them apart with an unmatched knowledge of how they fitted together. Combining sensuality with the pastoral, parody, political satire, fable, eroticism, and mystery, his poems range from traditional verse forms to prose-poetry to the first two free-verse poems written in French. By situating Rimbaud's later writing in Africa as part of a continuum that spanned his entire life, Whidden offers a corrective to the traditional split between Rimbaud's life as a poet and his life afterwards. A remarkable portrait of the original damned poet, Arthur Rimbaud reinvents a figure who continues to captivate readers, artists, and writers across the world.
About the Author
---
Seth Whidden is professor of French at the University of Oxford and editor of Nineteenth-Century French Studies. He is the author of Leaving Parnassus: The Lyric Subject in Verlaine and Rimbaud and Authority in Crisis in French Literature, 1850–1880. For ten years he served as coeditor of Parade savage, the scholarly journal of Rimbaud studies.
Praise For…
---
Won
— Choice Magazine: CHOICE Outstanding Academic Title Awards
"Whidden brings all the erudition of his previous studies to bear in this accessible biography of a turbulent artist whose explosive and ephemeral talent upended and reoriented French poetry. The originality of this concise volume lies in its thoughtful fusion of criticism and reportage, and its unique organization of the poet's well-documented life. . . . In addition to generous excerpts of Rimbaud's poetry and letters, this work incorporates ample drawings and photographs, some by the poet himself, to introduce a truly catalytic and creative life. Highly recommended."
— Choice
"Reading Whidden's study feels like sitting in on a poetry class, featuring close (at times, technical) readings and perceptive analysis, which deepen our appreciation of Rimbaud's art. The reader experiences the thrill of being granted a front-row seat to the precocious becoming and premature undoing of our young hero. In addition, we are treated to facsimiles of Rimbaud's original manuscripts featuring his beautiful penmanship and the cast of characters whose influence he often quickly outgrew: family, teachers, artists, and friends. . . . [A] gripping study."
— World Literature Today
"Whidden's captivating account of Rimbaud is certain to establish itself swiftly as an essential item on reading lists. . . . The book provides both an excellent introduction for the student, and some probing and challenging analyses for the more advanced scholar. . . . Discussion of the poetry is nuanced throughout, and we are treated to some delightfully perceptive close readings. . . . This is an exemplary study, and one that inspires us to revisit, reread, and rethink Rimbaud."
— French Studies
"It is perhaps unusual for a critical study—even a biographical one—to be described as a 'page turner;' in the case of Whidden's recent study of Arthur Rimbaud, however, the epithet seems fitting. . . . The book is both an illuminating introduction to Rimbaud and his works, and an insightful textual study that has already become an essential addition to reading lists on nineteenth-century French poetry for modern languages and comparative literature courses."
— H-France Reviews
"This book is a must-read for students first encountering Rimbaud. Whidden puts everything in place to facilitate the appreciation of even his most difficult poems, including excellent English translations, without ever claiming to provide an interpretative key. A well-researched and up-to-date study, it is also bound to spark fresh insights in readers already familiar with Rimbaud's writing. This book is no exercise in academic turf-marking; as Whidden notes in his closing words, 'there will always be enough Rimbaud for all of us.' Rather, it is an invitation to take stock of the boundlessness of Rimbaud's poetic project, and to stay in step with it, resolutely."
— Nineteenth-Century French Studies
"This highly engaging new biography, in the acclaimed Critical Lives series, brims with scholarly insight and moves along with verve. Whidden wears his erudition lightly and illuminatingly as he blends biography, poetry analysis, cultural history, and the background of the Siege of Paris and the Commune. The biography packs an informational punch for readers new to Rimbaud and also for those seeking to refresh their knowledge of the creative and personal parcours of one of global modernity's landmark poets."
— Modern & Contemporary France
"[An] exquisite short biography. . . . Whidden returns to what we know of Rimbaud's life with force and verve, without forgoing close attention to the work itself. . . . Although Whidden's chapter titles purport to focus on spaces, it is his ability to give a sense of time—both in its passing and in its plasticity—that sets this book apart from similar works. . . . Whidden's art in part consists of extending this poetic logic to the biographical. . . . Arthur Rimbaud is an excellent guide to the impossible task of charting the poet's infinite range and depth."
— Thomas C. Connolly
"Whidden structures his telling of the story around two central themes which capture Rimbaud's restless spirit—movement and writing—and situates Rimbaud's poetic career within the context of key historical events such as the Franco-Prussian war, the siege of Paris and the Commune. The exhausting relationship between Rimbaud and Verlaine is entertainingly recounted, and an elegant reading of Une saison en enfer breathes new life into the lost art of reading texts through the lens of the author's life. There are illuminating readings of Rimbaud's poems throughout, and Whidden succeeds in making difficult texts accessible, quoting in French with English translation. . . . An excellent critical introduction to his life and work for a diverse readership."
— Forum for Modern Language Studies
"Whidden's biography of Rimbaud also impressively chops away some of the myths and clichés that have grown up around Rimbaud's life like strangling ivy. . . . It's an impressive piece of work, it manages to be scholarly, thrilling, and sober in one. Not easy."
— Manchester Review of Books
"Whidden brings Arthur Rimbaud—the poet and the man, the irrepressible bad boy and the insuperable genius—alive in this engaging biography. As addictively readable as it is elegantly researched, Whidden's book will appeal not only to specialists but to all readers interested in French poetry, culture, and the ever-fascinating interplay between life and art."
— Caroline Weber, author of "Proust's Duchess: How Three Celebrated Women Captured the Imagination of Fin-de-Siècle Paris"
"In his always perceptive account of Rimbaud's life, times and writing, Whidden both draws on the recent research and transmits to English-speaking readers the poet's new and often disconcerting significance."
— Ross Chambers, author of "An Atmospherics of the City: Baudelaire and the Poetics of Noise"
STOREFRONT CLOSED FOR REGULAR BUSINESS
Nevertheless, UPB provides ship-to-home service.
Unless and until we move our on-line fulfillment team to different premises, everything you purchase from us ships from warehouses outside of Berkeley.
Much of what we used to carry on store shelves is available, except for very expensive books, used books, and titles fallen between printings.
A number of limitations apply during this period of reduced operations:
Only orders that subtotal under $75.00 will ship.
Thus, we may remove items from a multi-book order and ask you to resubmit them on a separate order.
Sometimes we may have to split an order because books are stocked at different warehouses. Sorry, it's impossible to tell in advance when this may happen.
Credit card orders only
Many high demand titles ship fairly quickly. Most other titles travel from back east, adding 2 to 3 days to delivery
Althoug we love you in Canada, Latin America, and else where, U.S. orders only.
Certain publishers set low margins on certain titles. Sorry, we've had to raise prices on these, some we don't offer at all.
You can also purchase eBooks and audio books through us. Distributed by Hummingbird, they include publications from the major trade publishers. Just access the menu link or the sidebar image above.
We greatly appreciate your support of the store with your book orders. Need a book without our current shopping restrictions? We recommend Bookshop. View our affiliate page, then search for whatever book you'd like.
---
Should you have questions, email us via our contact form. Since none of will be keeping regular hours, it may take a day or two to get back with you.
The Cafe Ohlone has closed for the duration of the epidemic. They will probably reopen at a different location when they do.
From 1974, University Press Books has stoked the blaze of well over ten thousand minds on fire, carrying new scholarship published by the great university presses in the English-speaking world.
Since our founding, we've added quality fiction and creative non-fiction to our selection, without drfiting from our mission to showcase top new texts introduced by university presses.
Order from us. Visit us. Let well-wrought words churn and burn within.