Arthur Rimbaud (Critical Lives) (Paperback)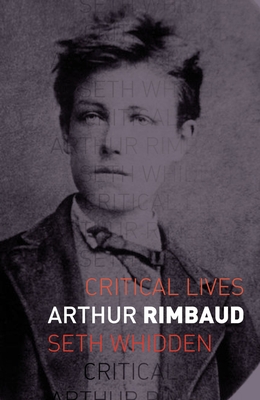 Description
---
Before he turned twenty-one, Arthur Rimbaud (1854–91) had upended the house of French poetry and left it in shambles. In this critical biography, Seth Whidden argues that what makes Rimbaud's poetry important is part of what makes his life so compelling: rebellion, audacity, creativity, and exploration.

Almost all of Rimbaud's poems were written between the ages of fifteen and twenty. Against the backdrop of the crumbling Second Empire and the tumultuous Paris Commune, he took centuries-old traditions of French versification and picked them apart with an unmatched knowledge of how they fitted together. Combining sensuality with the pastoral, parody, political satire, fable, eroticism, and mystery, his poems range from traditional verse forms to prose-poetry to the first two free-verse poems written in French. By situating Rimbaud's later writing in Africa as part of a continuum that spanned his entire life, Whidden offers a corrective to the traditional split between Rimbaud's life as a poet and his life afterwards. A remarkable portrait of the original damned poet, Arthur Rimbaud reinvents a figure who continues to captivate readers, artists, and writers across the world.
About the Author
---
Seth Whidden is professor of French at the University of Oxford and editor of Nineteenth-Century French Studies. He is the author of Leaving Parnassus: The Lyric Subject in Verlaine and Rimbaud and Authority in Crisis in French Literature, 1850–1880. For ten years he served as coeditor of Parade savage, the scholarly journal of Rimbaud studies.
Praise For…
---
"Whidden brings all the erudition of his previous studies to bear in this accessible biography of a turbulent artist whose explosive and ephemeral talent upended and reoriented French poetry. The originality of this concise volume lies in its thoughtful fusion of criticism and reportage, and its unique organization of the poet's well-documented life. . . . In addition to generous excerpts of Rimbaud's poetry and letters, this work incorporates ample drawings and photographs, some by the poet himself, to introduce a truly catalytic and creative life. Highly recommended."
— Choice
"This highly engaging new biography, in the acclaimed Critical Lives series, brims with scholarly insight and moves along with verve. Whidden wears his erudition lightly and illuminatingly as he blends biography, poetry analysis, cultural history, and the background of the Siege of Paris and the Commune. The biography packs an informational punch for readers new to Rimbaud and also for those seeking to refresh their knowledge of the creative and personal parcours of one of global modernity's landmark poets."
— Modern & Contemporary France
"Whidden structures his telling of the story around two central themes which capture Rimbaud's restless spirit—movement and writing—and situates Rimbaud's poetic career within the context of key historical events such as the Franco-Prussian war, the siege of Paris and the Commune. The exhausting relationship between Rimbaud and Verlaine is entertainingly recounted, and an elegant reading of Une saison en enfer breathes new life into the lost art of reading texts through the lens of the author's life. There are illuminating readings of Rimbaud's poems throughout, and Whidden succeeds in making difficult texts accessible, quoting in French with English translation. . . . An excellent critical introduction to his life and work for a diverse readership."
— Forum for Modern Language Studies
"Whidden brings Arthur Rimbaud—the poet and the man, the irrepressible bad boy and the insuperable genius—alive in this engaging biography. As addictively readable as it is elegantly researched, Whidden's book will appeal not only to specialists but to all readers interested in French poetry, culture, and the ever-fascinating interplay between life and art."
— Caroline Weber, author of "Proust's Duchess: How Three Celebrated Women Captured the Imagination of Fin-de-Siècle Paris"
"In his always perceptive account of Rimbaud's life, times and writing, Whidden both draws on the recent research and transmits to English-speaking readers the poet's new and often disconcerting significance."
— Ross Chambers, author of "An Atmospherics of the City: Baudelaire and the Poetics of Noise"