Before you buy…
We're glad to again service customers, even though our former store front has closed and we operate this web store under reduced services.
Just scroll to the bottom to review limits placed on orders. .
American Prison: A Reporter's Undercover Journey into the Business of Punishment (Hardcover)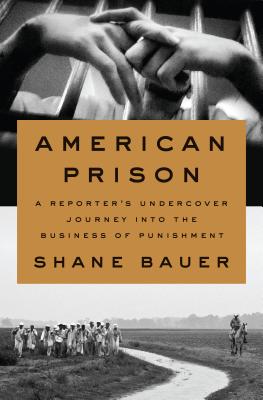 $28.00
Ships from Warehouse, Usually in 1-8 Days
Description
---
An enraging, necessary look at the private prison system, and a convincing clarion call for prison reform." —NPR.org

New York Times Book Review 10 Best Books of 2018 * One of President Barack Obama's favorite books of 2018 * Winner of the 2019 J. Anthony Lukas Book Prize * Winner of the Helen Bernstein Book Award for Excellence in Journalism * Winner of the 2019 RFK Book and Journalism Award * A New York Times Notable Book 

A ground-breaking and brave inside reckoning with the nexus of prison and profit in America: in one Louisiana prison and over the course of our country's history.

In 2014, Shane Bauer was hired for $9 an hour to work as an entry-level prison guard at a private prison in Winnfield, Louisiana. An award-winning investigative journalist, he used his real name; there was no meaningful background check. Four months later, his employment came to an abrupt end. But he had seen enough, and in short order he wrote an exposé about his experiences that won a National Magazine Award and became the most-read feature in the history of the magazine Mother Jones. Still, there was much more that he needed to say. In American Prison, Bauer weaves a much deeper reckoning with his experiences together with a thoroughly researched history of for-profit prisons in America from their origins in the decades before the Civil War. For, as he soon realized, we can't understand the cruelty of our current system and its place in the larger story of mass incarceration without understanding where it came from. Private prisons became entrenched in the South as part of a systemic effort to keep the African-American labor force in place in the aftermath of slavery, and the echoes of these shameful origins are with us still.

The private prison system is deliberately unaccountable to public scrutiny. Private prisons are not incentivized to tend to the health of their inmates, or to feed them well, or to attract and retain a highly-trained prison staff. Though Bauer befriends some of his colleagues and sympathizes with their plight, the chronic dysfunction of their lives only adds to the prison's sense of chaos. To his horror, Bauer finds himself becoming crueler and more aggressive the longer he works in the prison, and he is far from alone.

A blistering indictment of the private prison system, and the powerful forces that drive it, American Prison is a necessary human document about the true face of justice in America.
About the Author
---
Shane Bauer is a senior reporter for Mother Jones. He is the recipient of the National Magazine Award for Best Reporting, Harvard's Goldsmith Prize for Investigative Reporting, Atlantic Media's Michael Kelly Award, the Hillman Prize for Magazine Journalism, and at least 20 others. Bauer is the co-author, along with Sarah Shourd and Joshua Fattal, of a memoir, A Sliver of Light, which details his time spent as a prisoner in Iran.
Praise For…
---
One of Boston Globe's Best Books of 2018
One of San Francisco Chronicle's 10 Best Books of 2018
One of Kirkus Reviews' Best Books of 2018
Featured in Mother Jones' Favorite Nonfiction of 2018
 
 
"American Prison reprises [Bauer's] page-turning narrative [as reported in Mother Jones], and adds not only the fascinating back story of CCA, the nation's first private prison company, but also an eye-opening examination of the history of corrections as a profit-making enterprise . . . Bauer is a generous narrator with a nice ear for detail, and his colleagues come across as sympathetic characters, with a few notable exceptions . . . The sheer number of forehead-slapping quotes from Bauer's superiors and fellow guards alone are worth the price of admission." —The New York Times Book Review
 
"American Prison is both the remarkable story of a journalist who spent four months working as a corrections officer, and a horrifying exposé of how prisoners were treated by a corporation that profited from them. . . . It's Bauer's investigative chops, though, that make American Prison so essential. He dedicated his time at Winn to talking with prisoners and guards, who were unaware that he was a journalist . . . Based on his first-hand experience and these conversations, he paints a damning picture of prisoner mistreatment and under-staffing at the prison, where morale among the incarcerated and the employees was poor. The stories he tells are deeply sad and consistently infuriating . . . An enraging, necessary look at the private prison system, and a convincing clarion call for prison reform." —NPR.org 
 
"A relentless and uncompromising book, one that takes a crowbar to the private prison industry and yanks hard, letting just enough daylight slip inside to illuminate the contours of the beast . . . The private prison industry is booming once again. To find out what that means for real people—both those who guard and those who are guarded—American Prison is the place to begin." —San Francisco Chronicle 
                                                               
"[Bauer] exposes the extreme inhumanity and myriad abuses perpetrated by the American prison system—problems that effect both prisoners and guards. A terrifying look into one of America's darkest and deepest ongoing embarrassments." —LitHub

"One of the most incisive — and damning — investigations into prison culture and business in recent memory, Bauer's illuminating hybrid memoir and sociological study shines much-needed light into some dark corners of the criminal justice system." —Boston Globe 
 
"Riveting . . . Bauer himself was held in an [Iranian] prison for two years, so he knows what it feels like to be on the inside, yet he brings to the text a journalist's purview and draws a direct line between American slavery, the founders of the prison corporations and the job he is hired to do. In a fascinating tightrope walk, Bauer shows that, in this so-called industry, the financial bottom line comes at a high human cost." —Oprah.com 
 
"The searing details of [Bauer's] time in the Winn facility form the brutal core of his indictment: evidence of systematic cruelty and profiteering that starts to erode the morality of prisoners and guards alike." —Vulture 

"A penetrating exposé on the cruelty and mind-bending corruption of privately run prisons across the United States . . . Nearly every page of this tale contains examples of shocking inhumanity . . . A potent, necessary broadside against incarceration in the U.S." —Kirkus, starred review

"Deprivation, abuse, and fear oppress inmates and guards alike in this hard-hitting exposé of the for-profit prison industry . . . A gripping indictment of a bad business." —Publishers Weekly, starred review
 
"Bauer's amazing book examines one of slavery's toxic legacies, using convicted people to make profit . . . He observes an acutely dangerous and out-of-control environment created by CCA's profit-driven underpaying of staff and understaffing of prisons. Bauer's historical and journalistic work should be required reading." —Booklist

"Sometimes the only way to get the full story is to put yourself into it as an 'immersion journalist.' Shane Bauer wanted to know more about for-profit prisons so he got a job in one as a correction officer, or guard, and reports his experiences grippingly while weaving in the social and economic factors that give rise to these horrors. His book reveals much that that we didn't want to know about but, having learned about, can never forget." —Barbara Ehrenreich, author of Nickel and Dimed
 
"American Prison is a searing, page-turning indictment of America's practice of corporate incarceration. Shane Bauer reports in the best way a journalist can: by going into a prison himself. But then he connects the dots, drawing a persuasive through-line from plantations worked by slaves, to Southern prison farms, to corporate prisons. With this braid of history and reportage Bauer reveals the criminal nature of private prisons, a world of pain that is also a business. His is a beautiful rage." —Ted Conover, Pulitzer Prize finalist and director of the Arthur L. Carter Journalism Institute of New York University
STOREFRONT CLOSED FOR REGULAR BUSINESS
Nevertheless, UPB provides ship-to-home service.
Unless and until we move our on-line fulfillment team to different premises, everything you purchase from us ships from warehouses outside of Berkeley.
Much of what we used to carry on store shelves is available, except for very expensive books, used books, and titles fallen between printings.
A number of limitations apply during this period of reduced operations:
Only orders that subtotal under $75.00 will ship.
Thus, we may remove items from a multi-book order and ask you to resubmit them on a separate order.
Sometimes we may have to split an order because books are stocked at different warehouses. Sorry, it's impossible to tell in advance when this may happen.
Credit card orders only
Many high demand titles ship fairly quickly. Most other titles travel from back east, adding 2 to 3 days to delivery
Althoug we love you in Canada, Latin America, and else where, U.S. orders only.
Certain publishers set low margins on certain titles. Sorry, we've had to raise prices on these, some we don't offer at all.
You can also purchase eBooks and audio books through us. Distributed by Hummingbird, they include publications from the major trade publishers. Just access the menu link or the sidebar image above.
We greatly appreciate your support of the store with your book orders. Need a book without our current shopping restrictions? We recommend Bookshop. View our affiliate page, then search for whatever book you'd like.
---
Should you have questions, email us via our contact form. Since none of will be keeping regular hours, it may take a day or two to get back with you.
The Cafe Ohlone has closed for the duration of the epidemic. They will probably reopen at a different location when they do.
From 1974, University Press Books has stoked the blaze of well over ten thousand minds on fire, carrying new scholarship published by the great university presses in the English-speaking world.
Since our founding, we've added quality fiction and creative non-fiction to our selection, without drfiting from our mission to showcase top new texts introduced by university presses.
Order from us. Visit us. Let well-wrought words churn and burn within.