Before you buy…
We're glad to again service customers, even though our former store front has closed and we operate this web store under reduced services.
Just scroll to the bottom to review limits placed on orders. .
Beyond Weird: Why Everything You Thought You Knew about Quantum Physics Is Different (Paperback)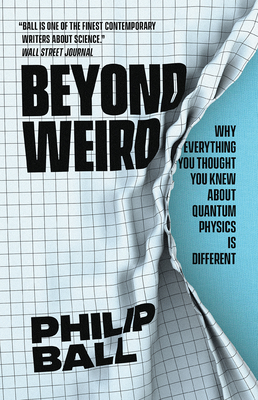 $18.00
Coming Soon - Available for Pre-Order Now
Description
---
"Anyone who is not shocked by quantum theory has not understood it."

Since Niels Bohr said this many years ago, quantum mechanics has only been getting more shocking. We now realize that it's not really telling us that "weird" things happen out of sight, on the tiniest level, in the atomic world: rather, everything is quantum. But if quantum mechanics is correct, what seems obvious and right in our everyday world is built on foundations that don't seem obvious or right at all—or even possible.

An exhilarating tour of the contemporary quantum landscape, Beyond Weird is a book about what quantum physics really means—and what it doesn't. Science writer Philip Ball offers an up-to-date, accessible account of the quest to come to grips with the most fundamental theory of physical reality, and to explain how its counterintuitive principles underpin the world we experience. Over the past decade it has become clear that quantum physics is less a theory about particles and waves, uncertainty and fuzziness, than a theory about information and knowledge—about what can be known, and how we can know it.  Discoveries and experiments over the past few decades have called into question the meanings and limits of space and time, cause and effect, and, ultimately, of knowledge itself. The quantum world Ball shows us isn't a different world. It is our world, and if anything deserves to be called "weird," it's us.
About the Author
---
Philip Ball is a writer, author, and broadcaster, and was formerly an editor at Nature. His writing on scientific subjects has appeared in places ranging from New Scientist to the New York Times. He is the author of more than twenty books, including Invisible, Curiosity, and, most recently, The Water Kingdom: A Secret History of China, also published by the University of Chicago Press. He lives in London.
Praise For…
---
"Ball's gorgeously lucid text takes us to the edge of contemporary theorizing about the foundations of quantum mechanics. Beyond Weird is easily the best book I've read on the subject."
— Washington Post
"The intention of Beyond Weird, though, is not simply to provide a dummy's guide to the theory, but to explore its underlying meaning. We know that the equations work, but what sort of world do they really represent? To tackle the question, he weighs up the competing interpretations, and the misconceptions, that have attached themselves to quantum theory in its 100-year history, finishing with more recent attempts to rebuild the theory 'from scratch', and new ideas that offer tantalising glimpses beyond. . . . [A] laudable achievement."
— Sunday Times
"[A] clear and deeply researched account of what's known about the quantum laws of nature, and how to think about what they might really mean."
— Nature
"An excellent account of modern quantum theory and the efforts being made to harness its effects."
— The Spectator
"It would be easy to think 'Surely we don't need another book on quantum physics.' There are loads of them. . . . Don't be fooled, though - because in Beyond Weird, Philip Ball has done something rare in my experience. . .it makes an attempt not to describe quantum physics, but to explain why it is the way it is."
— PopScience Books
"If so great a physicist as Richard Feynman once claimed that 'nobody understands quantum mechanics,' what hope do we laypeople have? Luckily, Philip Ball, a freelance writer (formerly of Nature magazine) who has published widely on the history of science, tackles the subject in a user-friendly yet thorough introduction. . . . Replacing 'obscure terminology' with accessible ideas and drawings, Ball makes would-be physicists of us all."
 
— Foreword Review
"Ball . . . asks lots of questions, including rhetorical ones, and uses words like 'we' and 'let's' to turn readers into collaborators. The tone is reassuring; he never talks down to nonscientists. Instead, he invites them to join in exploring this 'new and unfamiliar logic' in which what we understand and how we measure something has an effect on what we observe. Replacing 'obscure terminology' with accessible ideas and drawings, Ball makes would-be physicists of us all."
— Foreword Reviews
"Philip Ball is one of the finest contemporary writers about science. . . . His prose is a pleasure to read."
— Wall Street Journal
"This is the book on quantum mechanics that I wish I'd written, but I'm really glad I read. Philip Ball really encapsulates the sheer mystery of quantum mechanics so well."
— Jim Al-Khalili
STOREFRONT CLOSED FOR REGULAR BUSINESS
Nevertheless, UPB provides ship-to-home service.
Unless and until we move our on-line fulfillment team to different premises, everything you purchase from us ships from warehouses outside of Berkeley.
Much of what we used to carry on store shelves is available, except for very expensive books, used books, and titles fallen between printings.
A number of limitations apply during this period of reduced operations:
Only orders that subtotal under $75.00 will ship.
Thus, we may remove items from a multi-book order and ask you to resubmit them on a separate order.
Sometimes we may have to split an order because books are stocked at different warehouses. Sorry, it's impossible to tell in advance when this may happen.
Credit card orders only
Many high demand titles ship fairly quickly. Most other titles travel from back east, adding 2 to 3 days to delivery
Althoug we love you in Canada, Latin America, and else where, U.S. orders only.
Certain publishers set low margins on certain titles. Sorry, we've had to raise prices on these, some we don't offer at all.
You can also purchase eBooks and audio books through us. Distributed by Hummingbird, they include publications from the major trade publishers. Just access the menu link or the sidebar image above.
We greatly appreciate your support of the store with your book orders. Need a book without our current shopping restrictions? We recommend Bookshop. View our affiliate page, then search for whatever book you'd like.
---
Should you have questions, email us via our contact form. Since none of will be keeping regular hours, it may take a day or two to get back with you.
The Cafe Ohlone has closed for the duration of the epidemic. They will probably reopen at a different location when they do.
From 1974, University Press Books has stoked the blaze of well over ten thousand minds on fire, carrying new scholarship published by the great university presses in the English-speaking world.
Since our founding, we've added quality fiction and creative non-fiction to our selection, without drfiting from our mission to showcase top new texts introduced by university presses.
Order from us. Visit us. Let well-wrought words churn and burn within.