Before you buy…
We're glad to again service customers, even though our former store front has closed and we operate this web store under reduced services.
Just scroll to the bottom to review limits placed on orders. .
Freedom and Despair: Notes from the South Hebron Hills (Paperback)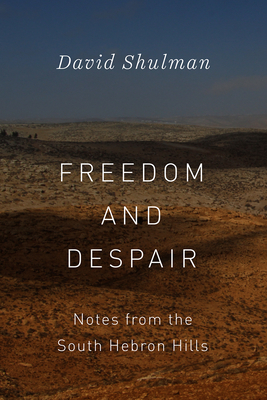 $18.00
Ships from Warehouse, Usually in 1-8 Days
Description
---
Lately, it seems as if we wake up to a new atrocity each day. Every morning is now a ritual of scrolling through our Twitter feeds or scanning our newspapers for the latest updates on fresh horrors around the globe. Despite the countless protests we attend, the phone calls we make, or the streets we march, it sometimes feels like no matter how hard we fight, the relentless crush of injustice will never abate.
 
David Shulman knows intimately what it takes to live your beliefs, to return, day after day, to the struggle, despite knowing you are often more likely to lose than win. Interweaving powerful stories and deep meditations, Freedom and Despair offers vivid firsthand reports from the occupied West Bank in Palestine as seen through the eyes of an experienced Israeli peace activist who has seen the Israeli occupation close up as it impacts on the lives of all Palestinian civilians.
 
Alongside a handful of beautifully written and often shocking tales from the field, Shulman meditates deeply on how to understand the evils around him, what it means to persevere as an activist decade after decade, and what it truly means to be free. The violent realities of the occupation are on full display. We get to know and understand the Palestinian shepherds and farmers and Israeli volunteers who face this situation head-on with nonviolent resistance. Shulman does not hold back on acknowledging the daily struggles that often leave him and his fellow activists full of despair. Inspired by these committed individuals who are not prepared to be silent or passive, Shulman suggests a model for ordinary people everywhere. Anyone prepared to take a risk and fight their oppressive political systems, he argues, can make a difference—if they strive to act with compassion and to keep hope alive.
 
This is the moving story of a man who continues to fight for good in the midst of despair. An indispensable book in our era of reactionary politics and refugee crises, political violence and ecological devastation, Freedom and Despair is a gripping memoir of struggle, activism, and hope for peace.
 
About the Author
---
David Shulman is the Renee Lang Professor of Humanistic Studies in the Department of Comparative Religion at the Hebrew University of Jerusalem. He is the author of several books, including Dark Hope: Working for Peace in Israel and Palestine and The Hungry God: Hindu Tales of Filicide and Devotion, both published by the University of Chicago Press.    
Praise For…
---
"Artful yet often passionately angry. . . . An earnest and valuable jeremiad insisting, reasonably, that ethical behavior is imperative when parsing the nearly impossible Israeli-Palestinian conundrum."
— Kirkus Reviews
"[Shulman] sees injustice perpetuated by his neighbors, he sees his government defend the indefensible, and he knows that he must act, speak, and fight for better. His righteous sensibilities carry throughout Freedom and Despair, a persuasive, moving, and crucially needed account of resistance in these contentious times."
— Foreword
"For fifteen years, David Shulman, a renowned scholar of South Asian languages and religion has been involved with Ta'ayush, whose name is the Arabic word for coexistence. The group has been protesting in the South Hebron Hills, in Area C of the West Bank, where some 300,000 Palestinians, most of them farmers and shepherds, live, in about thirty villages. . . Freedom and Despair is an account of his experiences there and an attempt to understand the deep antipathy that drives the violence and destruction in the region."
— New York Review of Books
"Shulman is a master storyteller. . . . His reflections are a thought-provoking and touching ode to activism and action—even when such activism is not, or cannot be, ultimately victorious. Freedom and Despair celebrates activism in the face of crushing odds."
— Foreign Policy
"Shulman eloquently and sensitively captures the beauty and the horror of the occupied West Bank. He is deeply attuned to the particularities and the paradoxes of the place."
— Jewish Currents
"Poetic and filled with empathy. . . Compelling."
— The Jerusalem Post
"An important new book by Shulman, who has been trying to help Palestinians resist cruelty, abuse, and land theft by settlers and the military in the South Hebron hills for decades . . . [this is a] powerful moral interrogation of himself and others."
— Hussein Ibish, Bloomberg
"No brief review of Freedom and Despair can adequately capture the richness of Shulman's thinking and writing in the book. Page after page of this gripping account of Ta'ayush's work sings of the hard-won rewards of a dogged persistence. . . . [t is the] barrier-busting expansiveness of heart and mind, that utterly disarming generosity of spirit as the very basis of non-violent action, that Shulman explores so beautifully in this book. Human rights practitioners should demand that those responsible for their organization's next big planning exercise immerse themselves in a copy well before the first PowerPoint slide is crafted, and before that oft-times rather unthinkingly worshipped word 'strategy' is spoken."
— Journal of Human Rights Practice
"With the skills of a novelist, Shulman effortlessly shifts from vivid thumbnail sketches of individuals to beautifully rendered depictions of the stark landscape to relentless self-interrogation. For all Americans in the new Trump era who are asking themselves, 'What can I do and how do I deal with my despair?'—Freedom and Despair is essential."
— Gabriel Levin, author of The Maltese Dreambook
"Beautifully written and emphatic . . . . essential reading for anyone who wants—or hopes, however darkly—to grasp the lay of this punished land."—The Nation
 
"From 2002 to 2006, Shulman did some of the harder work of his country's peace movement: clashing with police and settlers to deliver food and medical supplies to Palestinian villages. In his excellent record of these years, Dark Hope, Shulman vividly describes the small bands of Palestinians who live in caves in the Hebron Hills."—Slate
— Praise for Dark Hope
"Shulman's spell-binding narrative offers a captivating introduction to philosophical ideas extracted from the least likely of places—the remote and rugged hills of southern Hebron. Freedom and Despair is a meticulous soul-searching effort to articulate meanings that have captured the attention of philosophers throughout history: evil, distress, freedom, conscience, truth, and the mysterious state of being acquired by daring to say no to injustice."
— Sari Nusseibeh, professor of philosophy and former president, Al-Quds University, Jerusalem
STOREFRONT CLOSED FOR REGULAR BUSINESS
Nevertheless, UPB provides ship-to-home service.
Unless and until we move our on-line fulfillment team to different premises, everything you purchase from us ships from warehouses outside of Berkeley.
Much of what we used to carry on store shelves is available, except for very expensive books, used books, and titles fallen between printings.
A number of limitations apply during this period of reduced operations:
Only orders that subtotal under $75.00 will ship.
Thus, we may remove items from a multi-book order and ask you to resubmit them on a separate order.
Sometimes we may have to split an order because books are stocked at different warehouses. Sorry, it's impossible to tell in advance when this may happen.
Credit card orders only
Many high demand titles ship fairly quickly. Most other titles travel from back east, adding 2 to 3 days to delivery
Althoug we love you in Canada, Latin America, and else where, U.S. orders only.
Certain publishers set low margins on certain titles. Sorry, we've had to raise prices on these, some we don't offer at all.
You can also purchase eBooks and audio books through us. Distributed by Hummingbird, they include publications from the major trade publishers. Just access the menu link or the sidebar image above.
We greatly appreciate your support of the store with your book orders. Need a book without our current shopping restrictions? We recommend Bookshop. View our affiliate page, then search for whatever book you'd like.
---
Should you have questions, email us via our contact form. Since none of will be keeping regular hours, it may take a day or two to get back with you.
The Cafe Ohlone has closed for the duration of the epidemic. They will probably reopen at a different location when they do.
From 1974, University Press Books has stoked the blaze of well over ten thousand minds on fire, carrying new scholarship published by the great university presses in the English-speaking world.
Since our founding, we've added quality fiction and creative non-fiction to our selection, without drfiting from our mission to showcase top new texts introduced by university presses.
Order from us. Visit us. Let well-wrought words churn and burn within.