Before you buy…
We're glad to again service customers, even though our former store front has closed and we operate this web store under reduced services.
Just scroll to the bottom to review limits placed on orders. .
Redefining Success in America: A New Theory of Happiness and Human Development (Paperback)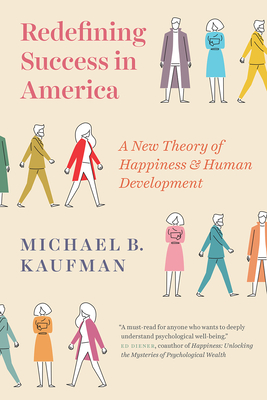 Email or call for price
Ships from Warehouse, Usually in 1-8 Days
Description
---
Work hard in school, graduate from a top college, establish a high-paying professional career, enjoy the long-lasting reward of happiness. This is the American Dream—and yet basic questions at the heart of this competitive journey remain unanswered. Does competitive success, even rarified entry into the Ivy League and the top one percent of earners in America, deliver on its promise? Does realizing the American Dream deliver a good life? In Redefining Success in America, psychologist and human development scholar Michael Kaufman develops a fundamentally new understanding of how elite undergraduate educations and careers play out in lives, and of what shapes happiness among the prizewinners in America. In so doing, he exposes the myth at the heart of the American Dream.

Returning to the legendary Harvard Student Study of undergraduates from the 1960s and interviewing participants almost fifty years later, Kaufman shows that formative experiences in family, school, and community largely shape a future adult's worldview and well-being by late adolescence, and that fundamental change in adulthood, when it occurs, is shaped by adult family experiences, not by ever-greater competitive success. Published research on general samples shows that these patterns, and the book's findings generally, are broadly applicable to demographically varied populations in the United States.

Leveraging biography-length clinical interviews and quantitative evidence unmatched even by earlier landmark studies of human development, Redefining Success in America redefines the conversation about the nature and origins of happiness, and about how adults develop. This longitudinal study pioneers a new paradigm in happiness research, developmental science, and personality psychology that will appeal to scholars and students in the social sciences, psychotherapy professionals, and serious readers navigating the competitive journey.
About the Author
---
Michael Kaufman is an interdisciplinary psychologist who has been director of the Harvard Student Study for the past fifteen years at the University of Chicago in the Department of Comparative Human Development and the Center on Aging. Currently a Fulbright Scholar in Tanzania carrying out cross-cultural research in human development, he is visiting professor of psychiatry and behavioral sciences at Tumaini University Makumira as well as a senior research scientist at the Kilimanjaro Clinical Research Institute.
Praise For…
---
"The fifty-fifth reunion . . . heard a presentation on a new book, Redefining Success in America, by Michael B. Kaufman, MBA '94, now a psychologist. He exhumed records from the legendary Harvard Student Study, based on members of the classes of 1960 and 1961—including Stanley King's in-depth interviews with 49 young men—and, during the past fifteen years, followed up with many of them. His resulting theory of happiness and human development looks beyond the pursuit of status and wealth to the factors that determine a fulfilling life: mutually beneficial relationships; awareness and pursuit of one's own goals; and capacity to deal with serious setbacks. The class members' lived experience perhaps suggested as much, but Kaufman's talk was the first formal outreach by researchers to share the findings with the subjects who made it possible."
— Harvard Magazine
"A must-read for anyone who wants to deeply understand psychological well-being."
— Ed Diener, coauthor of "Happiness: Unlocking the Mysteries of Psychological Wealth"
"Extraordinary, almost unbelievable, that Kaufman has been able to track down and study in depth subjects who were first investigated decades ago. Using his rare, longitudinal data, he develops a sophisticated understanding of happiness and life satisfaction. He shows why it is that financial success is not as central as it is often thought to be. Our culture, he argues convincingly, has sold to the younger generation a false promise that attending a prestigious college and attaining wealth is 'a ticket to the good life.' Redefining Success in America does just what the title promises; it provides an original and creative answer to the question: 'What provides fulfillment?'"
— James W. Anderson, Northwestern University Feinberg School of Medicine
"A superb book, unique for its use of grounded theory in the study of life-span patterns and in its formulation of a new life-span theory of happiness. In these ways, Redefining Success in America makes fundamental contributions. The equal emphasis on stability and change is very rare and admirable in developmental science. . . . As a life-course sociologist, I enjoyed this book greatly."
— Michael Shanahan, director of the Jacobs Center for Productive Youth Development, University of Zurich
"Kaufman's book is timely, given the current nationwide college cheating scandal, and many American parents' apparent obsession with elite colleges. Is it true that graduating from a highly selective, name-brand college guarantees a happy and successful life? Kaufman explores this question using data from a relatively small sample of (presumably all white) men who attended Harvard in the early 1960s, delving into their college life experiences via archival interview transcripts, then tracking down and interviewing those same men decades later when they were nearly sixty years old. Creating a qualitatively rich measure of happiness—the 'Scale of Intrapsychic Brightness and Darkness' (bright: secure, invested in others, possessing a sense of play and spirituality, hopeful; dark: on guard and self-protective, secluded, struggling, pessimistic)—Kaufman explores long-term stability and change in happiness and predictors of happiness, including early family experiences, career success, and important adult relationships. Illustrated with detailed case examples and supplemented by more quantitative survey results from a larger group of Harvard men, results indicate four-year immersion in arguably the most elite of undergraduate colleges is, in fact, no guarantee of 'success in America.' . . . Highly recommended."
— C. J. Jones, California State University, Fresno
STOREFRONT CLOSED FOR REGULAR BUSINESS
Nevertheless, UPB provides ship-to-home service.
Unless and until we move our on-line fulfillment team to different premises, everything you purchase from us ships from warehouses outside of Berkeley.
Much of what we used to carry on store shelves is available, except for very expensive books, used books, and titles fallen between printings.
A number of limitations apply during this period of reduced operations:
Only orders that subtotal under $75.00 will ship.
Thus, we may remove items from a multi-book order and ask you to resubmit them on a separate order.
Sometimes we may have to split an order because books are stocked at different warehouses. Sorry, it's impossible to tell in advance when this may happen.
Credit card orders only
Many high demand titles ship fairly quickly. Most other titles travel from back east, adding 2 to 3 days to delivery
Althoug we love you in Canada, Latin America, and else where, U.S. orders only.
Certain publishers set low margins on certain titles. Sorry, we've had to raise prices on these, some we don't offer at all.
You can also purchase eBooks and audio books through us. Distributed by Hummingbird, they include publications from the major trade publishers. Just access the menu link or the sidebar image above.
We greatly appreciate your support of the store with your book orders. Need a book without our current shopping restrictions? We recommend Bookshop. View our affiliate page, then search for whatever book you'd like.
---
Should you have questions, email us via our contact form. Since none of will be keeping regular hours, it may take a day or two to get back with you.
The Cafe Ohlone has closed for the duration of the epidemic. They will probably reopen at a different location when they do.
From 1974, University Press Books has stoked the blaze of well over ten thousand minds on fire, carrying new scholarship published by the great university presses in the English-speaking world.
Since our founding, we've added quality fiction and creative non-fiction to our selection, without drfiting from our mission to showcase top new texts introduced by university presses.
Order from us. Visit us. Let well-wrought words churn and burn within.