Before you buy…
We're glad to again service customers, even though our former store front has closed and we operate this web store under reduced services.
Just scroll to the bottom to review limits placed on orders. .
Helmholtz: A Life in Science (Hardcover)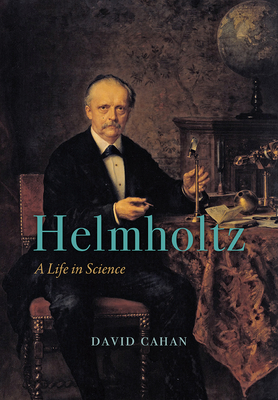 $66.00
Ships from Warehouse, Usually in 1-8 Days
Description
---
Hermann von Helmholtz was a towering figure of nineteenth-century scientific and intellectual life. Best known for his achievements in physiology and physics, he also contributed to other disciplines such as ophthalmology, psychology, mathematics, chemical thermodynamics, and meteorology. With Helmholtz: A Life in Science, David Cahan has written a definitive biography, one that brings to light the dynamic relationship between Helmholtz's private life, his professional pursuits, and the larger world in which he lived.
​
Utilizing all of Helmholtz's scientific and philosophical writings, as well as previously unknown letters, this book reveals the forces that drove his life—a passion to unite the sciences, vigilant attention to the sources and methods of knowledge, and a deep appreciation of the ways in which the arts and sciences could benefit each other. By placing the overall structure and development of his scientific work and philosophy within the greater context of nineteenth-century Germany, Helmholtz also serves as cultural biography of the construction of the scientific community: its laboratories, institutes, journals, disciplinary organizations, and national and international meetings. Helmholtz's life is a shining example of what can happen when the sciences and the humanities become interwoven in the life of one highly motivated, energetic, and gifted person.
About the Author
---
David Cahan is the Charles Bessey Professor of History at the University of Nebraska-Lincoln. He is the editor of both Hermann von Helmholtz's Science and Culture: Popular and Philosophical Essays and From Natural Philosophy to the Sciences: Writing the History of Nineteenth-Century Science, both published by the University of Chicago Press.
Praise For…
---
"An admirably detailed and engaging book. . . . Cahan deserves great praise for having given us a comprehensive biography that will be of enduring value and the greatest interest for anyone concerned with science and human history."
— Wall Street Journal
"Doesn't leave much out."
— New York Review of Books
"A magnum opus."
— Deborah R. Coen
"It is without a doubt a masterpiece."
— Helge Kragh
"A magisterial biography of one of the last of the great polymaths."
— Barbara Kiser
"To produce a definitive biography of a protean figure like Helmholtz is a major scholarly achievement, and that is what [Cahan] has accomplished. . . . The treatment is richly detailed, judicious, quietly conservative, and eminently readable. . . . Good biographies paint pictures of individual lives, and Cahan does that vividly . . . . To read David Cahan's biography is to be drawn into meditation about the ironies of scientific fame and the varieties of scientific creativity."
— R. Steven Turner
"David Cahan has just delivered a book that, based on thirty years of work and on archives only recently made available and dispersed throughout the entire world, should long remain the best and most complete biography of the savant [Hermann von Helmholtz]."
— Michel André
"A monumental study that draws together a vast archive of primary sources and scholarship to show the many threads—intellectual, ethical, historical and personal—that cohered in this remarkable nineteenth-century life in science. . . . Cahan's volume magisterially restores Helmholtz's rich historical legacy."
— German History
"The new standard for all Helmholtz scholars, a comprehensive guide and crucial resource for historians, philosophers or sociologists interested in this scientific luminary."
— Henning Schmidgen
"Cahan has prepared the work of a career, collecting what must be nearly every known detail about the life of the German scientist and intellectual . . . . He seemingly effortlessly weaves together Helmholtz's family life, education, academic positions, organizational and political involvements, roles in establishing and administrating institutions, and efforts to popularize recent developments in science. . . . Cahan's use of evidence—which is drawn from a dazzling array of published and manuscript primary sources—is appropriate, sufficient, representative, and faithful. . . . Well worth the time required to read it."
— Mathematical Association of America
"Encyclopedic. . . . Cahan's presentation is lucid, patient, and detailed, with frequent backtracks to view material from multiple perspectives. . . . Helmholtz is an excellent, in-depth examination of one of 19th-century Europe's most influential scientists. . . . Recommended."
— CHOICE
"Cahan not only avoids the pitfall of hero worship, but he makes his biography relevant to anyone interested in nineteenth-century science. What impressed me most is how Cahan gives us an insight into the nineteenth-century scientific community through the eyes of Helmholtz and his contemporaries. Time and again we see the importance of maintaining local, national and international networks."
— Stadium
"David Cahan has written a masterful biography whose implicit argument is to present Hermann von Helmholtz as a grand unifier. He does this by following the thread of culture that bound together the life, work, and context of his subject. Given the centrifugal tendencies in each of these realms—the ultimate dissolution of a shared German identity, the increasing specialization of scientific research, and the modern fracture of the self, Cahan's achievement is impressive. By bringing so many disparate sources and topics into coherence, Helmholtz mirrors the very figure it portrays."
— Gabriel Finkelstein, History, University of Colorado Denver
"By far the most in-depth, culturally situated, and well written analysis of Helmholtz to date—no one knows Helmholtz as well or as thoroughly as David Cahan."
— Frederick Gregory, University of Florida
STOREFRONT CLOSED FOR REGULAR BUSINESS
Nevertheless, UPB provides ship-to-home service.
Unless and until we move our on-line fulfillment team to different premises, everything you purchase from us ships from warehouses outside of Berkeley.
Much of what we used to carry on store shelves is available, except for very expensive books, used books, and titles fallen between printings.
A number of limitations apply during this period of reduced operations:
Only orders that subtotal under $75.00 will ship.
Thus, we may remove items from a multi-book order and ask you to resubmit them on a separate order.
Sometimes we may have to split an order because books are stocked at different warehouses. Sorry, it's impossible to tell in advance when this may happen.
Credit card orders only
Many high demand titles ship fairly quickly. Most other titles travel from back east, adding 2 to 3 days to delivery
Althoug we love you in Canada, Latin America, and else where, U.S. orders only.
Certain publishers set low margins on certain titles. Sorry, we've had to raise prices on these, some we don't offer at all.
You can also purchase eBooks and audio books through us. Distributed by Hummingbird, they include publications from the major trade publishers. Just access the menu link or the sidebar image above.
We greatly appreciate your support of the store with your book orders. Need a book without our current shopping restrictions? We recommend Bookshop. View our affiliate page, then search for whatever book you'd like.
---
Should you have questions, email us via our contact form. Since none of will be keeping regular hours, it may take a day or two to get back with you.
The Cafe Ohlone has closed for the duration of the epidemic. They will probably reopen at a different location when they do.
From 1974, University Press Books has stoked the blaze of well over ten thousand minds on fire, carrying new scholarship published by the great university presses in the English-speaking world.
Since our founding, we've added quality fiction and creative non-fiction to our selection, without drfiting from our mission to showcase top new texts introduced by university presses.
Order from us. Visit us. Let well-wrought words churn and burn within.