Before you buy…
We're glad to again service customers, even though our former store front has closed and we operate this web store under reduced services.
Just scroll to the bottom to review limits placed on orders. .
The Way of Coyote: Shared Journeys in the Urban Wilds (Hardcover)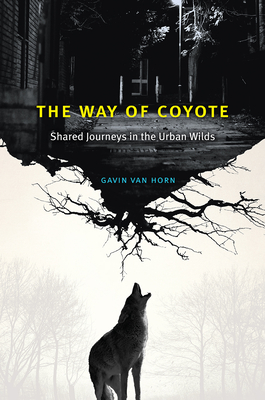 $25.00
Ships from Warehouse, Usually in 1-8 Days
Description
---
A hiking trail through majestic mountains. A raw, unpeopled wilderness stretching as far as the eye can see. These are the settings we associate with our most famous books about nature. But Gavin Van Horn isn't most nature writers. He lives and works not in some perfectly remote cabin in the woods but in a city—a big city. And that city has offered him something even more valuable than solitude: a window onto the surprising attractiveness of cities to animals. What was once in his mind essentially a nature-free blank slate turns out to actually be a bustling place where millions of wild things roam. He came to realize that our own paths are crisscrossed by the tracks and flyways of endangered black-crowned night herons, Cooper's hawks, brown bats, coyotes, opossums, white-tailed deer, and many others who thread their lives ably through our own.
           
With The Way of Coyote, Gavin Van Horn reveals the stupendous diversity of species that can flourish in urban landscapes like Chicago. That isn't to say city living is without its challenges. Chicago has been altered dramatically over a relatively short timespan—its soils covered by concrete, its wetlands drained and refilled, its river diverted and made to flow in the opposite direction. The stories in The Way of Coyote occasionally lament lost abundance, but they also point toward incredible adaptability and resilience, such as that displayed by beavers plying the waters of human-constructed canals or peregrine falcons raising their young atop towering skyscrapers. Van Horn populates his stories with a remarkable range of urban wildlife and probes the philosophical and religious dimensions of what it means to coexist, drawing frequently from the wisdom of three unconventional guides—wildlife ecologist Aldo Leopold, Taoist philosopher Lao Tzu, and the North American trickster figure Coyote. Ultimately, Van Horn sees vast potential for a more vibrant collective of ecological citizens as we take our cues from landscapes past and present.

Part urban nature travelogue, part philosophical reflection on the role wildlife can play in waking us to a shared sense of place and fate, The Way of Coyote is a deeply personal journey that questions how we might best reconcile our own needs with the needs of other creatures in our shared urban habitats.
 
About the Author
---
Gavin Van Horn is the director of cultures of conservation at the Center for Humans and Nature, a nonprofit organization that focuses on and promotes conservation ethics. He is coeditor of City Creatures and Wildness and writes and edits the City Creatures blog.
 
Praise For…
---
"Van Horn  reminds us that urban is not the same as absence of nature. He writes with great beauty and dignity about how we might better align ourselves with the natural world and establish urban habitats where a diversity of wildlife can flourish. As the author rambles through the canyons of Chicago skyscrapers looking for roosting peregrine falcons, or kayaks along sewers and canals in search of beavers, the voices of ecologist Aldo Leopold, Taoist philosopher Lao Tzu and Coyote—the trickster and mischiefmaker of Native American myth—lend both wisdom and charm to a true story about how the paths of people and wildlife cross and merge and how, if we attend to each other's needs, we may all enjoy a brighter urban future."
 
— Wall Street Journal
"An awareness and appreciation for urban wildlife is an important part of world conservation efforts. Van Horn writes eloquently and with insight about the creatures that live among us—and, perhaps, why we should help them flourish. Highly recommended."
 
— Jeff VanderMeer, author of the Southern Reach Trilogy
"One part ode to animal adaptability, one part eloquent personal journal, one part scientific exploration, this book takes readers on an inspiring walk through Chicago's skyscrapers and down its shorelines to understand how wildlife lives among us, despite the odds and obstacles—and what we can learn about ourselves in the process. With Van Horn's approachable prose, this book feels like a long conversation with a friend, one that drifts through ecology, philosophy, mythology, and, of course, daily life on a quest to discover how to be better inhabitants of this changing planet. Engaging and uplifting, this book provides a fresh perspective about the wilderness woven throughout the urban forest."
— Jaymi Heimbuch, Urban Coyote Initiative
"Van Horn's The Way of Coyote explores the ways humans and the natural world interact, often unknowingly, within an urban context, tracing a map of Chicago through a series of captivating encounters with nonhuman animals, going on to examine the possibilities for finding new paths of connection and coexistence. Along the way, Van Horn argues passionately and effectively for the reimagination of urban space, recalibrating it through beautifully woven prose to include more than just a rigid human focus, bringing the wild lives in our midst into view. The book is an opportunity 'to see what a city is—and what a city could be—with new eyes.'"
— Julian Hoffman, author of The Small Heart of Things
"Van Horn's lyrical essays on encounters with wildlife in cities combine the insights of science and poetry into a powerful personal statement. The Way of Coyote is our urban Sand County Almanac."
 
— Gerald W. Adelman, president and CEO, Openlands
"In his collection of essays, framed by imaginative tales of Coyote, Badger, Owl, and other animals, Van Horn reports on 'nonhuman animals' on the rise and in decline in the Chicago region and around the world. . . . Readers may change how they see their neighborhoods and begin spotting wildlife nearby."
— Booklist
"The almost lyrical observations and prose bring beauty and respect to the urban wilds of peregrine falcons roosting on the ledges of skyscrapers, Monarch butterflies laying their eggs on the diminishing milkweed, and coyotes walking on pedestrian paths and through alleys. . . . This dramatic picture of wildlife both flourishing and defending its very existence in the city will appeal to naturalists, urban dwellers, environmentalists, city planners, and those who enjoy good writing."
 
— Library Journal
"As a prairie steward and natural history instructor, I'm always looking for thoughtful books that challenge me to think out of the box about the environment. Van Horn's book is exceptional; from his quest to discover nature in the city to his skillful intertwining of coyote fables and observational narration. Highly recommended reading for anyone who cares about the future of the natural world."
 
— Cindy Crosby, author of Tallgrass Conversations
STOREFRONT CLOSED FOR REGULAR BUSINESS
Nevertheless, UPB provides ship-to-home service.
Unless and until we move our on-line fulfillment team to different premises, everything you purchase from us ships from warehouses outside of Berkeley.
Much of what we used to carry on store shelves is available, except for very expensive books, used books, and titles fallen between printings.
A number of limitations apply during this period of reduced operations:
Only orders that subtotal under $75.00 will ship.
Thus, we may remove items from a multi-book order and ask you to resubmit them on a separate order.
Sometimes we may have to split an order because books are stocked at different warehouses. Sorry, it's impossible to tell in advance when this may happen.
Credit card orders only
Many high demand titles ship fairly quickly. Most other titles travel from back east, adding 2 to 3 days to delivery
Althoug we love you in Canada, Latin America, and else where, U.S. orders only.
Certain publishers set low margins on certain titles. Sorry, we've had to raise prices on these, some we don't offer at all.
You can also purchase eBooks and audio books through us. Distributed by Hummingbird, they include publications from the major trade publishers. Just access the menu link or the sidebar image above.
We greatly appreciate your support of the store with your book orders. Need a book without our current shopping restrictions? We recommend Bookshop. View our affiliate page, then search for whatever book you'd like.
---
Should you have questions, email us via our contact form. Since none of will be keeping regular hours, it may take a day or two to get back with you.
The Cafe Ohlone has closed for the duration of the epidemic. They will probably reopen at a different location when they do.
From 1974, University Press Books has stoked the blaze of well over ten thousand minds on fire, carrying new scholarship published by the great university presses in the English-speaking world.
Since our founding, we've added quality fiction and creative non-fiction to our selection, without drfiting from our mission to showcase top new texts introduced by university presses.
Order from us. Visit us. Let well-wrought words churn and burn within.